LGBTQ+ Cultural Competence
LGBTQ+ Cultural Competence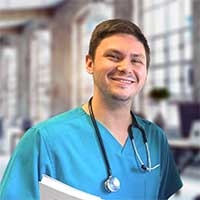 Author: Shane Slone
DNP, RN, APRN, AGACNP-BC
LGBTQ patients may experience healthcare disparities due to multiple factors, including lack of provider knowledge. In this course we will discuss how to deliver culturally-competent LGBTQ care.
Introduction
Terminology
Best Practices
Establishing Relationships with LGBTQ Patients
Health Disparities Experienced by LGBTQ Patients
Providing an Inclusive and Accepting Environment
Exercises
Conclusion
References
Nursing CE Central LLC is accredited as a provider of nursing continuing professional development by the American Nurses Credentialing Center's Commission on Accreditation.
In this course we will discuss culturally competent care for LGBTQ patients. It will take the average learner 120 minutes to complete.
After completing this course, the learner will rate 4 out of 5 on the Likert Scale for their ability to:
Understand the disparities LGBTQ patient face within the healthcare system.
Explain some of the "best practices" related to LGBTQ care.
Be able to work within their own organization to begin enacting change to benefit LGBTQ patients.
Registered Nurses (RN)
Advanced Practice Registered Nurses (APRN)
Licensed Practical Nurses (LPN/LVN)
Requirement for Completion
Enrollment in the course by the learner
Read and learn all course materials
Complete the course evaluation
Attest and testify learning of the course materials
Accreditations + Approvals
American Nurses Credentialing Center (ANCC) (P0614)
California Board of Registered Nursing (CEP 17418)
Kentucky Board of Nursing (7-0090)
Louisiana State Board of Nursing (58)
New York State Department of Education (IC 208)
Florida Board of Nursing (50-23983)
Disclosure of Relevant Financial Relationships
Nursing CE Central nor any of the authors, planners, content experts, or any contributors have any relevant financial relationships with ineligible companies to disclose.
Course Created on: August 23, 2020
Course Renewed on: September 7, 2023
Course Expires on: September 7, 2026