The
Fastest & Easiest
Nursing CEUs
Enroll Now and Complete your CEU Requirements
Includes all courses required for renewal in every State!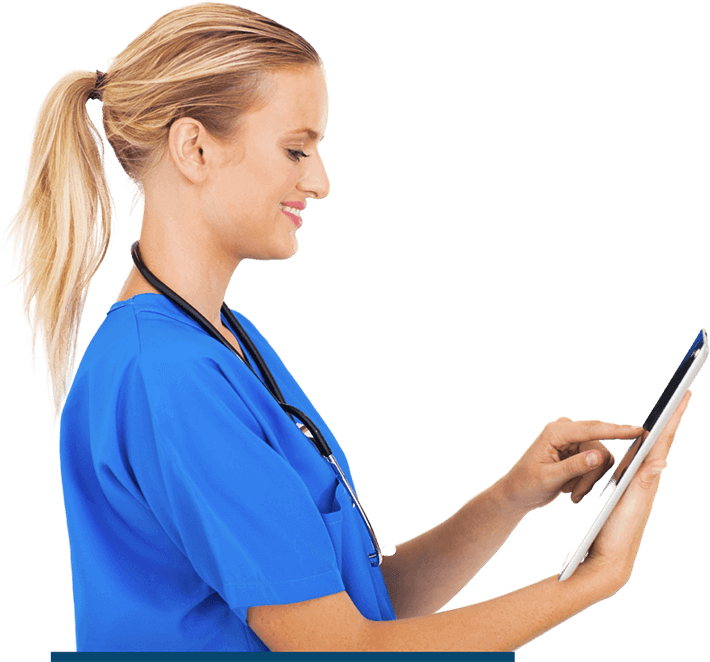 Or, select your state for specific Nursing CE information

GET YOUR NURSING CEU

On Your Time
One Click
TO COMPLETE YOUR ONLINE NURSING CEU

No hidden fees, ever

No tests required

100% online for your convenience
Unlimited Access
TO ALL NURSING CE COURSES FOR ONE YEAR
Easy Nursing CEUs is our motto.
No Tests
Simply read the material, attest, and receive your certificate instantly via email. No tests required!
Instant Certificates
Upon course completion, your certificate is automatically emailed to you and available on your online profile.
ANCC Approved, Accepted Nationally
Our continuing education is approved by many agencies, including the American Nurse's Credentialing Center (ANCC). Rest assured your state board of nursing will accept any credits earned with us.
EASY &
QUICK
continuing education for nurses
Enroll, access your courses, and earn your certificate quickly in our state-of-the-art, e-Learning platform.
Earning your nursing CE is hassle-free with Nursing CE Central.
Overall Nursing CE Course Ratings
Simple and Informative
I love it! It's so easy and the information is very detailed. I feel that with the information given, it'll be useful in my patient care. You review the information and take a survey and you get your contact hours. It's just that simple, yet informative. Thank you for allowing me to get the contact hours needed to keep my license and learn something new at the same time.
One Week to Complete CEUs Before RN Renewal Was Due!!!
This was my first time having to complete 30 CEU's for my RN License. I waited until the last minute then had a death in the family! I was panicked and didn't think I was going to be able to complete the 30 hours before my renew was due. Nursing CE Central allowed me to easily and quickly complete all 30 CEU hours online without having to take a test! Then they emailed me the completion certificate to submit with my RN renewal fee. Thank you Nursing CE Central.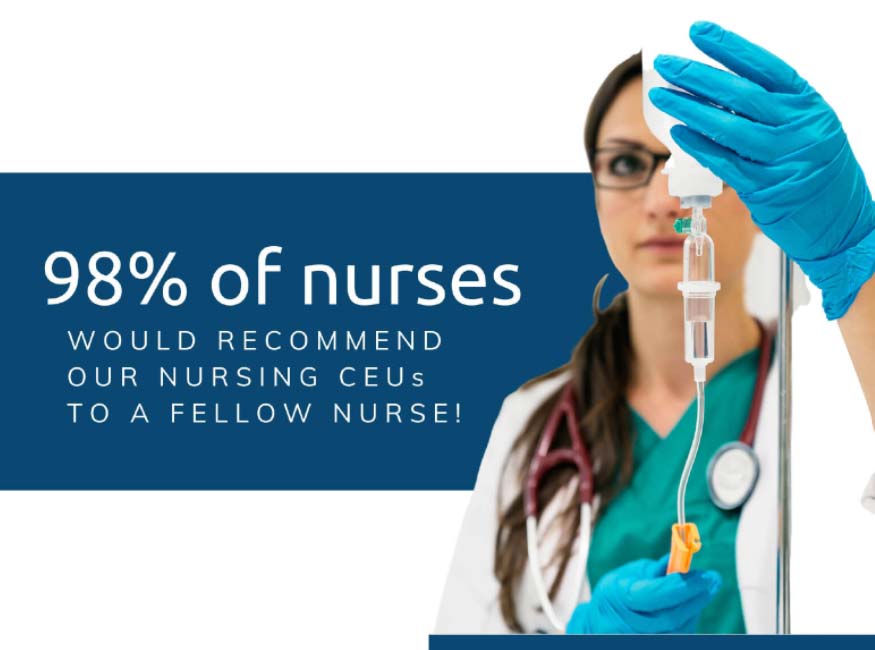 THE #1 NURSING CE PROVIDER
Unlimited access
to our Nursing CE library.
At Nursing CE Central we work hard to make sure nurses have access to the courses they need to learn and renew.
When you enroll with us you will have access to over 150 contact hours of continuing education; everything from sepsis to pediatric asthma and domestic violence. You can learn the content you need to upgrade your nursing skills and renew your license.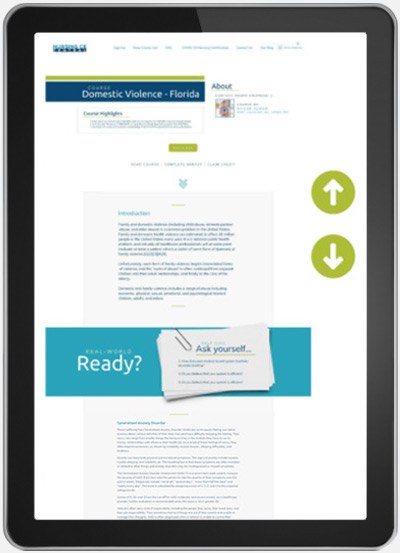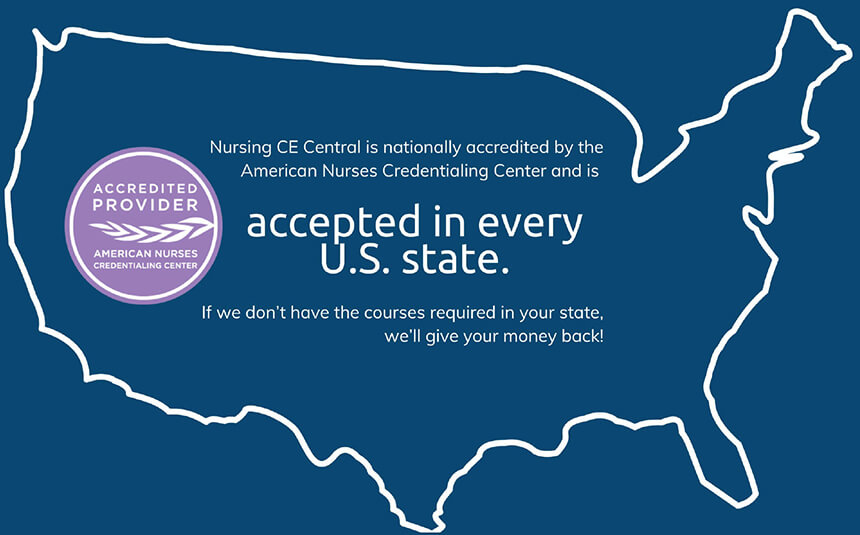 What makes
Nursing CE Central unique?
At Nursing CE Central we have one mission: to deliver high-quality nursing CEUs in a convenient, stress-free online environment. We provide the nursing Continuing education you need in a fast & easy online platform. We never require tests and your certificates are automatically available at the completion of each nursing continuing education course. We've thought about every detail and strive to make your Nursing CEU experience as fast, easy and hassle-free as possible.
We also understand that the #1 reason nurses seek continuing education is to satisfy Board of Nursing requirements. We ensure that all of our continuing education meets Board of Nursing standards for our accepted states. We take the guesswork out of the equation and allow you to focus on your continuing education.
Your Choice for Nursing CE
Choosing a Nursing CEU provider is a difficult choice and we understand that. That's why we've created Nursing CE Central – to make your life easier and your nursing license renewal less stressful. We know that you will love our up-to-date, interactive courses and easy-to-use website. Sign up today and see why thousands of nurses choose Nursing CE Central!
Nationally Accredited
Looking to renew your RN, LVN, or APRN license? We've got you covered – all state requirements included.
 What are nursing CEUs?
The term Nursing CEU refers to "continuing education units". Though there is no standard language, this typically refers to continual education (beyond license) which enhances the nurse's knowledge.
How many Nursing CEs do nurses need for renewal in 2023?
ANCC is the American Nurses' Credentialing Center. They act as the regulators for nursing continuing education. They help ensure that ANCC Nursing CEU providers are providing quality content to nurses. Nurses can rest assured that ANCC is accepted by all states' Board of Nursing!
How do nurses get CEUs in 2023?
Most continuing education for nurses is online. This allows nurses to take courses at their own pace and to learn about the materials which interest them. Most nurses feel that getting Nursing CEUs online is faster than other methods.
Can I get my Nursing CEUs online?
Absolutely! Our courses are designed to provide maximal convenience and ease-of-use for nurses. You can even take our courses on your phone or tablet! Continuing education for nurses is required, and we know that you needs it on your time.
How do I know if Nursing CE Central is legit?
Great question! You can find our accreditation information on the ANCC website by visiting: https://www.nursingworld.org/organizational-programs/accreditation/find-an-accredited-organization/
Are your nursing CEUs accredited?
Absolutely! We are accredited by the ANCC. You can rest assured that our CEUs will be accepted by your state's Board of Nursing. NCC's Nurse CE courses are approved continuing education by the American Nurses Credentialing Center Commission on Accreditation. We pride ourselves on providing nationally accredited continuing education for nurses.

Are your nursing CEUs approved by ANCC?
ANCC is the American Nurses Credentialing Center. They act as the regulators for nursing continuing education. They help ensure that ANCC nursing CEU providers are providing quality content to nurses. Nurses can rest assured that ANCC is accepted by the Board of Nursing in all states!
Are your CEUs no-test nursing CEUs?
That is correct. We never require tests for our courses. Simply read the material, attest and receive your certificate instantly!
How can I get my nursing CEUs fast?
Though you are required to read all the course material, online nursing CEUs are considered the fastest option for renewal due to the efficacy of technology.
Do you have free nursing CEU courses?
Of course! You can sign up at any time and try a course for free before purchasing. Our continuing education for nurses is meant to meet your needs, and all of our courses are available for viewing prior to purchase.
Our Nursing Continuing Education Courses – All Included with Unlimited Membership for $39.99
Includes hundreds of contact hours and over 100 continuing education for nurses courses for one low price.
A-fib risk of Stroke OR overview of pathology of stroke
Adenovirus in Pediatric Population
ADHD
Administration of Blood Products
Advancement in Nursing Care of Diabetic Foot Wounds
Alzheimer's – RI
Bioterrorism NV
Cancer Disparities
Child Abuse PA
Crisis/Emergency Intervention the role of a school nurse
Critical Thinking
Developing a Quality Preceptorship Program
Domestic Violence – FL
Drug Diversion – WV
Effective Communication
Emergency Response in the correctional setting
Emerging treatments in cancer CAR and T-cells
Endovascular Thrombectomy and its role in treating Ischemic Stroke
Engaging Staff
Enhanced Recovery After C-section
Ethics and Jurisprudence- TX
Ethics in the Nursing Profession
Forensics – TX
Geriatric Psych
HIV/AIDS – DC
HIV/AIDS – FL
home health hemodialysis
Hospice Nursing In a nutshell
How to be an effective RN leader
How to Support a Newly Diagnosed Cancer Patient
Human Trafficking
Human Trafficking TX
Hyperbilirubinemia PEDS
Identification and reporting of child abuse and maltreatment- NY
Identification and Treatment of Alcohol Withdrawal in the Correctional Setting
Importance of patient education in the early recognition of STEMI
Importance of through Pre-op process
Importance of understanding neuro symptoms as early determinants of dementia
Infection Control
Investigating Anemia
Leading without the title
Managing Children with Behavioral Health Issues Presenting to the Emergency Department
Mass transfusion protocol 101 for nurses
Medical Errors – FL
Mental Health Conditions Common to Veterans – WV
MI: Initial management of patient with STEMI
Monitoring ICP-CPP
Neonatal abstinence syndrome
neonatal hypoglycemia
Newborn pain/soothing
Ohio Laws and Regulations – OH
Pain and Symptom Management-Michigan
Pain and Symptom Management: General
Pain Management Chronic/ Acute
Pathophysiology of Heart Failure
patient confidentiality for nurses
Pediatric Abusive Head Trauma KY
Pediatric Nursing Triage Pearls
Pediatric Suicide Risk Screening
post-partum hemorrhage
PPD
pre-conception health
preeclampsia
Preventing Pressure Ulcers
PTSD in the healthcare worker
recognizing impairment in the workplace – FL
Reducing New Nurse turnover
Risk stratification of pulmonary embolism what you need to know and why
Rules that Govern the practice of nursing – FL
schizophrenia: the revolving door treatment
Sexual Harassment
signs of impaired perfusion
Special Considerations for patient with HF undergoing surgical procedure
Substance Abuse
Suicide Prevention – WA
Symptom management of the Oncology Patient
The Basics of Wound Healing
The role of a nurse in the correctional setting
Tourniquets
Traumatic Brain Injury in Trauma Patients
Treatment options for ESRD
Understanding the different types of stoke
Understanding the Relationship between Developmental Disabilities and Mental Health Issues
understanding the stages of the end-of-Life process
Free Nursing CEU Trial
Want to try before you buy? We understand that.
We offer a 14-day Free Nursing CEU trial.
Free Nursing CEU trial includes:
 Free Alzheimer's Nursing Care CEU
Free Coronavirus Nursing CEU
Free Pain and Symptom Management Nursing CEU